The secret of paella cooking
If the Paella recipe has no secrets for you, you know that Paella is traditionally cooked in the open air and over a wood fire.
But the tips that follow are also valid for gas cooking & indoors …
The secret of Paella cooking
4 basic steps
If you master the secret of a successful Paella, you know exactly when your broth, which has reduced well, has reached its ideal volume, to succeed a dry and perfectly cooked.
This is the time to have your rice in your broth in full boiling, and arrange all of your ingredients harmoniously.
We do not move, from now on we do not touch anything!
The cooking of Valencia rice is an art. A very difficult art. It's time to focus on the fire:
1. High heat

Duration of this step: 7 to 8 minutes *
At the beginning of cooking the rice, it is covered with broth and is not seen.
And it is after 7 to 8 minutes that you are supposed to see it.
If you see your rice in these times: go to the next step.
If you see your rice before: you are too short in broth.
Break your fire, reduce it as quickly as possible. Go to the 2nd step. At worst (even if it is not recommended) add hot water very salty or even better: the broth that you thought to book and you kept at temperature.
If you do not see your rice, there is too much broth.
You need to increase the fire even more! And go to the next step, as soon as it appears.
For all Paellas who have reserved ingredients, it is now, when you see the rice appear, that they are re-introduced on the rice.
They will thus go up in temperature, without annealing.
2. Medium or soft fire
Duration of this step: 7 to 8 minutes.
Your rice appears clearly, you must lower your fire.
By spreading little by little, all the embers & pieces of wood that still make flames.
Start at the center. Make a void in the middle of your fire. Leave only a large circle of embers.
For gas cooking: lower your fire gradually to at least the outer circle and cut the one in the center.
Towards the end of 7 minutes, with your spoon, make a small sounding (plant it) to see if your rice has absorbed all the broth, and taste some grains of rice to test its cooking, without distorting the aesthetics of your dish.
If there is no more broth and the rice is cooked go to step 3
If there is no more broth and the rice is not cooked cover your Paella and extend this cooking time a little.
If there is no more broth and the rice hangs in the bottom (slightly burned) proceed to step 4
If there is still broth, restart the fire with large flames (with small wood: branch, twigs …), go to step 4 once the broth has evaporated.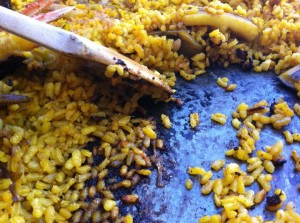 But broth or not, if arrived at this stage your rice is overcooked, bad news: your Paella is missed 🙁
3. On embers or hot fire
Duration of this step: 1 to 2 minutes.
This last step, is not all the time necessary, You must first probe your bottom.
If you feel that the rice is already hanging, go there.
Otherwise, put your paella on embers, 1 or 2 minutes to succeed the "socarrat".
This is the sign of a Paella really mastered and perfectly successful.
If your Socarrat is successful, place your paella on a large wet cloth to cut the heat of the pan and stop cooking
4. Rest

Duration of this step: 5 minutes.
Take the time to let your Paella rest for a few minutes (about 5 minutes) before serving.
The rice gains in texture to finish thus its cooking.
If your rice is still a little crunchy, it is customary to cover the Paella with newspaper leaves, slightly wet, or with a large tea towel. He will finish his cooking during this time of rest …
Do not do it if your rice is well cooked.
Here ! You can serve …
* I left a cooking time indicated on package of 15 minutes.
If your rice requires 18 minutes of cooking, step 1 & 2 lasts 9 minutes each … For 20 minutes: 10 minutes …