The definition of paella: a dish? A pan ? One moment ? A concept ? A tradition ? A topic of dispute ensured?
It's all at once …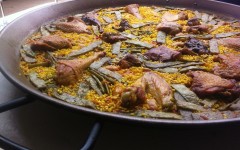 All the dictionaries give for the definition of paella two explanations:
The dish in which you cook: the paella used to make a paella.
Let's leave aside here, the definition of this Valencian skillet treated on another page,
& qui n'a jamais créé de polémiques.
The food cooked in this pan so special: the paella which is made in a paella.
And it's here that the problems begin …
Convention:
On all the pages of this site, I decided to write paella in italics when I refer to the dish, and to leave this word in the round when I speak about the pan: the paella.
This page is dedicated to the definition of paella: the dish.
What is a paella?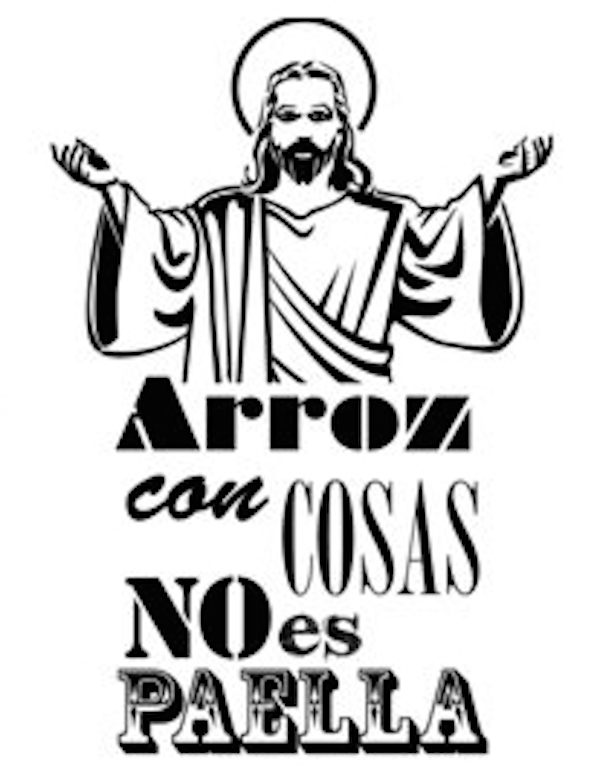 The vast majority of paella lovers around the world think that from the moment we cook rice with anything in a paella we make a paella.
For Valencians: it's not so … They usually declare:
"The paella, do not worry!"
In French: "Paella is not rice with things! …"
"Todos las paellas son arroz, pero no los los arroces his paella"
In English: "All paellas are made of rice, but not all rice dishes are paellas"
But then what is the definition of paella?
The answer is complex … I will therefore approach it from several points of view …
The definition of paella for Valencians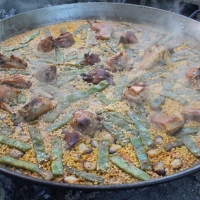 For Valencians, inventors of paella, the definition of paella is:
A round rice saffron Valencia & cooked in a paella.
A cooking that gives a dry rice!
A list of ingredients, sacred, that meets a simple rule: local ingredients of Valencia & seasonal.
A method to cook it very particular, which respects strict but simple rules.
The identity dish of an entire region: a pride for all Valencians.
Any other paella is (according to the points of view):
For the ultra-Orthodox: "Rice in paella to XXX" (or XXX is your main ingredient)
For the Orthodox: "A paella to XXX" (or XXX is your main ingredient)
And there are MANY kinds of rice paella different & perfectly accepted, in the region of Valencia.
The definition of paella for the Spaniards outside Valencia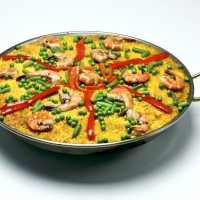 For all Spaniards, outside the Valencia region, the definition of paella is:
A round rice (from anywhere) saffron & cooked in a paella.
A cooking that does not give a rice necessarily dry.
A list of ingredients that changes for each region.
The identity dish of a whole country.
Every region of Spain has taken the paella …
The Andalusians add: chorizo, calamari …
Catalan onions, white wine and / or sausage …
The rest of Spain: peas & red and green peppers.
And it is unfortunately not rare that this is taken up by the dictionaries …
The definition of paella for the French & for the rest of the world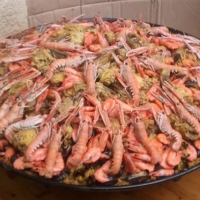 For the vast majority of French people, the definition of paella is:
A long rice (often Chinese) saffron & cooked in any pan.
A cooking that gives a rice often wet and that can even soak in broth.
A mixture of folk ingredients (mixing meat, sausages, fish & many shellfish) that takes all the clichés of Spain!
The stereotype dish of the Iberian Peninsula par excellence.
In other words, a real nightmare for the Valencians 🙂
The definition of paella in dictionaries
French: Paella: feminine name. Saffron rice dish, garnished with minced chicken, langoustines, chorizo, mussels and various vegetables. (Spanish cuisine.)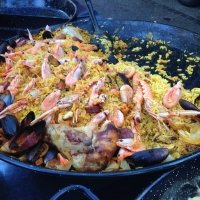 But what horror! ! ! !
This is typically a definition that is well suited to "rice mixed paella"
Spanish: Paella: (S. f.) Female name. Typical dish of Valencia with saffron rice, meat, vegetables, fish, etc.
There is also the Mixte: invented by restaurants & for tourists …
On Wikipedia: Paella: (from Valencian: paella, frying pan) dish based on round rice of Valencian origin and which takes its name from the pan that is used to cook it.
Perfect, but here they took less risks 🙂
Conclusion
Impossible to give a definition of the unique paella.
Paella is THE most universal identity dish of all Spanish gastronomy.
And today, this dish is global, each region, each country is appropriate, all dishes of rice in a paella are called (unfortunately) paella, without much distinction.
Valencians are therefore obliged to specify paella valenciana, to talk about their dish and differentiate it from all its variants (fish, seafood, mixed, pork …).
And in Valencia, to call a paella: paella valenciana, is redundant, pleonastic and ridiculous for any Valencian, because it is absolutely obvious …
Paella evolves for the better and sometimes for the worse. No nostalgia to have, it is the counterpart of a global success.