How to eat paella with friends in an authentic way
If you love paella, you eat it, with friends or family, from the paella …
And if you enjoy it in the dish you must absolutely know these basic rules.
Here are the codes of good behavior to eat a paella:
The 16 commandments of the paella
You will sit equidistant from each other all around the paella (equidistantly).
You will divide the paella like a laughing cow box.
You will respect your triangular share, the one you have in front of your nose and nothing more.
You will only use the only official utensil: The wooden spoon.
You will ask for the verbal authorization of your two neighbors, if you want to squeeze lemon. And you will be careful not to overflow.
You will respect the beginning of the meal given by the cook, when he will say "Vinga que est gel la arròs!" (Translation: Come on, let the rice cool!)
You will praise the cook on a regular basis every two spoons throughout the meal.
You will delicately place in the center of the paella, the different ingredients that you do not want, so that another can enjoy.
You will not rest in the paella the pieces of meat that you have bitten.
You will be harshly scolded if you invade the space of another without permission, "eres a poc fill of gandul" (Trad .: You are a bit of a son of good for nothing) and cafes you will pay.
You will express your satiety by placing your spoon on the edge of the paella and saying "Estic fart, ja no puc més!" (Trad: I'm full, I can not take it anymore) Your zone will then be frank and may be invaded.
You will not turn the Paella to reach another point where there is still rice.
You will keep the cup full of wine, throughout the meal, the one with one hand, holds the handle of the paella to prevent it turns with each spoon participants.
You will face the "Socarrat" those who want to dispute it, when the spoons will touch the steel of the paella (when there is nothing to eat except the "Socarrat"). It's a tense moment where nervousness is at its height. The frenzy is total, and the meal turns into oil research. Those who do not participate in this feast should relax and wait for dessert.
You will declare the meal finished if all the participants have withdrawn or if there is not a single grain of rice in the dish: an indisputable signal that the paella was very good or that everyone was starving.
You will cast black glances at the man who placed the paella on the table, if you realize at the end that all the "Socarrat" was at the neighbor's, and you did not have a grain.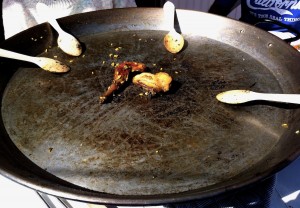 Texte of Paco La Naranja
One of the sources : El Mundo