The lexicon of the paella
Albufera: The Natural Park of La Albufera is home to the largest lake in Spain. It is located 10 km from Valencia, it is a natural site of great ecological value. This is where Valencian rice is grown, in a landscape of paddy fields as far as the eye can see. It is a place well known for its restaurants specializing in paella and rice cuisine in general.
Denominación de origen: Valencia is rich in products of Denominación de Origen (OO), the equivalent of our "Protected Designation of Origin". Valencian gastronomy benefits from high quality products, whether or not they are protected by appellations of origin: Artichokes from Benicarló, black truffles from Maestrazgo, olive oil from Sierra de Espadán, honey from Marina Alta, Dénia prawns, sea urchins from the Alicante coast, Vinaròs shrimps, Xixona turrón, La Vila Joiosa chocolate … And of course the Albufera rice!
Garrofon: Large white bean, broad and flat, fresh or dry. The Garrofe Bean is the only ingredient, yet essential for its taste and texture, very difficult to find in France.

Guindilla: This chilli is widely used in Valencia around a paella. He is green, long and thin. Always in vinegar, its light taste makes it easy to enjoy by the whole family.
Mandonguilles: Spicy Meatballs: These are minced meatballs that are found very often in the Paella of the land villages. They are made of bread crumbs, pine nuts, Pimenton (sweet pepper powder), sometimes a little cinnamon.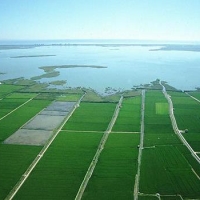 Marjal (la): In the region of Valencia, La Marjal is the name given to the fields surrounding the Albufera, which are devoted to rice growing. These occupy the largest area of the park.

Ñora: Variety of red pepper and dry, widely used in rice and sauces of the Mediterranean coast. And especially in the province of Alicante in the region of Valencia. The Alicantines use it a lot in their paella sauce and their dishes in general.
Rossejat: Which means "grilled" or "golden", it is a way to return the rice in the oil until it is transparent before putting the broth. The equivalent of the cooking mode of "Pilaf".
Siesta: Favorite activity, necessary and traditional, after a good paella.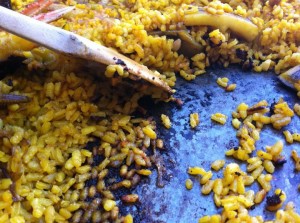 Socarrat: This is the slightly grilled crispy rice that forms at the bottom of the paella. Often the most popular part of the plate. And the most difficult to succeed …
Tapas: These "appetizers" that are enjoyed with a cold beer (or sangria for tourists), are a real institution in Valencia. You can easily find in the bars: patatas bravas, grilled cuttlefish, donut squid, Spanish omelette (tortilla de patata), anchovies in vinegar (boquerones), cod croquettes, sausage with onions (morcillas), …
Perfect to wait, while cooking Paella 🙂