Food / wine pairing, which wine to drink with Paella?
Never wine in a paella! ! !
But with, of course! And now that you perfectly master the Paella recipe, that your friends are invited, you need to know the right wine & paella pairing … Ludovic Bigel, sommelier teacher, will enlighten you …
What wine to serve with a Paella?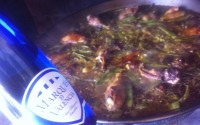 Rule No. 1 of the agreements? Stay local!
To make a good deal met / wine, we must start by taking into account, of course, the dish but also productions related to the region of origin of the dish and, as very often, they are agreements that works rather well.
Let's start by analyzing the dish:
By following the list of Paella's ingredients, we can see that we are facing a cereal (round rice) which, after preparation, brings a notion of volume quite wrapping in terms of texture.
Meats are so-called "white" chairs after cooking (chicken, rabbit) which brings some density a little firm for the few gastropods that are present the "tight" sensation will be more sustained.
It is therefore necessary to have a wine which brings at the same time a minimum of volume so as not to risk to support the dense sensations of the meats but also a wine which can "refresh" the palate with a touch of nervousness, of acidity, in order to help leave a mouth as clean as possible.
On the aromatic side, it's a "scented" dish! Olive oil, sweet pepper, saffron, rosemary …
No need to go fight with an aromatic wine because unless you're lucky, the link with a wine also "odorous" may be quite catastrophic directing agreements on soapy and / or sickening notes …
Exit the Sauvignons, Viognier and other Muscat …
An interesting local agreement:
White D.O. (Denominacion de Origen) of Valencia!
In dry white based on an autochthonous grape variety "Merseguera"!
These wines are generally quite tender, round and fresh while respecting the aromas of Paella because quite neutral, slight lemony notes.
They are usually bright & transparent, with yellow hues tinged with green and golden hues …
The other grape varieties used are Malvasía, Macabeo & Verdil, typical of Valencia.
And recently the Chardonay and the Semillón.
More info on the official website of the D.O. de Valencia
You do not live near Valencia or you can not find this wine?
Never mind !
Here is a list of wine proposals for Paella depending on your region of origin:
A white depending on your area!
– Alsace: Attention to aromatic grape varieties.
No gewurztraminer or Pinot gris but try a Pinot blanc or Chasselas, sometimes locally called Gutedel.
– Burgundy: Choose a generic Burgundy "Chardonnay" rather from the lower Burgundy.
Coast Châlonnaise, Mason, or a Rully and even why not a Bouzeron! Aligoté.
– Rhône Valley: Viognier too aromatic and Marsanne / Roussanne a little too fat …
You are forced to "drink" outside the region.
– Languedoc-Roussillon: There is a choice! And I say that in all objectivity of course!
Look for Vermentino type grapes, picpoul and in a more mineral register why not a pure Terret?
– South West and Bordeaux: hard hard! Sauvignon not recommended! The Mansengs too (Jurançon …)
The Mauzac are sometimes a little too aromatic and a bit bitter (not recommended with olive oil preparations) even sanctioned for those of the Rhone Valley.
– Loire Valley: Again, not easy either we are in the too lively (Muscadet, Gros-Plan) or in the lively and aromatic (Chenin) or in the too aromatic (Sauvignon) …
Not easy at the same time, the further away from the region of origin, the harder it is!
Avoid red wines
The "tannic" appearance may lead to a rather hard mouth ending and in any case the aromatic part does not require the aroma tones that can be revealed by a red wine (young or old).
So it only takes white with a Paella?
Not of course, these are just recommendations but again, a rosé wine not too "fruit" but rather vinous and spicy can quite agree.
For those who love beer:
You do not like wine?
So nothing prevents you from enjoying something else but the agreement will be different.
Try white beers, not bitter and do not hesitate to add a slice of lemon with (beer, not Paella!)
A text by Ludovic Bigel
Sommelier teacher in the following subjects:
Oenology, Sensory analysis, Knowledge of beverages, Knowledge of vineyards.
His blog.