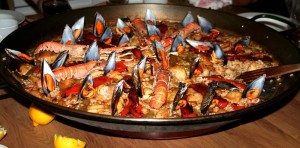 We should at least recognize the following fact to the Andalusians : this is their version of the Andalusian recipe which is the best-known in France and often more than the Mixed paella and thus, even more than the Valencian paella.
It is often confused with the original paella, but it is nothing of the sort, the Valencian paella does not contain any seafood products, even less cold cuts…
Variant of the Andalusian paella:
It is not unusual to see two or three kinds of meat, and all sorts of fish or vegetable...
Video of the Andalusian paella :
It is impossible to find a video that is not a nightmare.
And there is not exactly an official recipe, or a proper website for the time being...