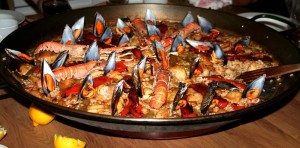 We should at least recognize the following fact to the Andalusians : this is their version of the Andalusian recipe which is the best-known in France and often more than the Mixed paella and thus, even more than the Valencian paella.
It is often confused with the original paella, but it is nothing of the sort, the Valencian paella does not contain any seafood products, even less cold cuts…
Instructions
Cut the chicken into regular pieces and add salt.
Over medium heat in the centre of the paella, heat the olive oil.

Slowly fry the meat.
Once well roasted, push it towards the edges where the fire no longer cooks it.
Cook the mussels, the gambas, the shrimps and set them aside.
Cut into small pieces and fry the squids or cuttlefish and push them towards the edges with the meat.
Place the vegetables in the centre and fry them slightly.
Push the vegetables towards the edges with the rest.
In the centre, add the grated tomato and slowly brown it.
Add the sweet pepper when the tomato is almost fried.

Add more water than you need.
Reduce it until only remains the right amount of water, between 2,5 and 3 times the volume of rice.

Pour in the rice and the saffron, properly scatter them in the paella.
Let it cook at very high heat for 8 to 10 minutes.
The rice should start to appear.
Then add the langoustines, shrimps and mussels. By pushing them very slightly.
Reduce the heat for the last 8 to 10 minutes.
Let stand, off the heat a few minutes before serving.

Recipe Notes
Variant of the Andalusian paella:
It is not unusual to see two or three kinds of meat, and all sorts of fish or vegetable...
Video of the Andalusian paella :
It is impossible to find a video that is not a nightmare.
And there is not exactly an official recipe, or a proper website for the time being...