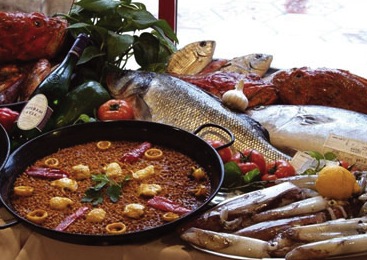 The recipe of the Arroz con tropezones, I have heard about it for the first time at the covered market in Narbonne ("Les Halles"), at the coffee "Chez Bebelle", an old friend of the boss, native of Elche next to Alicante.
We find on the internet some wacky recipes with sausages, pork and chickpeas, but after inquiring, this dish really is a fisherman recipe, pretty close to the "arroz del Señoret", which is by the way very popular in the Alicante region !
Instructions
Prepare well in advance all your ingredients :

Cut into uniform pieces the grouper and the cuttlefish & add salt.
Grate the tomatoes manually and throw the skin away.
Think carefully about putting your pan on the stove.
For the broth or « fish fumet » :
Brown an onion with some olive oil in the bottom of the pot.
Add rockfishes, crabs and the monkfish head in order to fry them too.
Pour three liters of water.
Some add a small leek, one bay leaf & parsley.
Boil for about an hour.
Pour through a strainer to keep only the broth.
Prepare a fish broth with the rockfishes.
Fry the pepper cut into slices, and set it aside.
Fry the grouper, the cuttlefish cut into small pieces, set it aside too.
Fry the Ñora, the garlic and the tomato and mix with the rest. Add salt...
Fry everything slightly, add the broth and the saffron, adjust the salt.
As soon as everything boil intensely, add the rice et let it cook 8 to 10 minutes on high heat .
Put the pepper slices on top of the rice which should start to appear and let it still cook 8 to 10 minutes over a very low heat.
Let stand 5 minutes & enjoy...
Recipe Notes
Variant of the Arroz con Tropezones :
It is not unusual to see two or three kinds of fishes.
Link of the Arroz con Tropezones :
The recipe given by fisheries of coastal villages from the Alicante region in Valencia : "Cofradías de Pescadores y sus Federaciones". On this page...