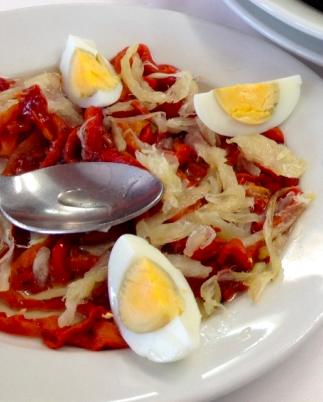 The Esgarraet, is a Tapa from Valencia & more specifically from the "Horta"…
It is the perfect recipe for a traditional starter, simple and authentic…
A powerful & surprising taste emerge from this dish, so easy to do.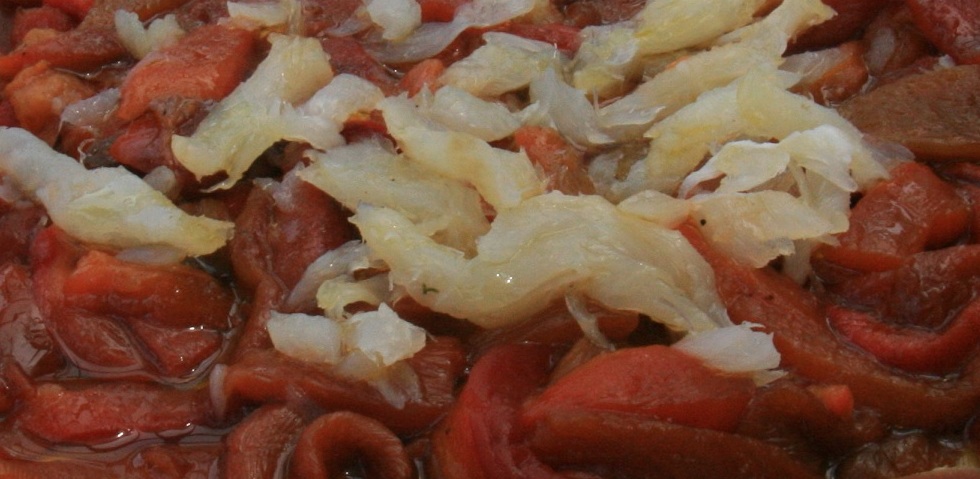 "Esgarraet" comes from "esgarradet" (desgarrado in Spanish) & means "disrupted" in Valencian.
This is what happens to the cod & the pepper, in this Tapa… The cod is is widely used in Valencia. Another very famous Tapa throughout the region of Valencia, also with cod, is the "Albóndiga".
Ingredients
1

kg

Red pepper

: well-ripped

250

g

Cod

: dried and salted

5

clove

Garlic

: to cut into fine strips

6

tbsp

Olive oil

: P.D.O. from Valencia, or any Mediterranean extra virgin oil

1

tbsp

Salt

: or better, flower of salt
Instructions
Prepare well in advance all your ingredients :

Wash & brush the peppers with olive oil.
Desalt your cod the whole night.
In the oven : put them in a dish and place them in the oven 30 minutes at 220°.
In the Plancha/Cooking plate/Pan : if you have time, grill them entirely, it is more annoying but much better.
Once cooked, let them cool. Little trick : lock them in a simple clean plastic bag, the peppers will peel very easily...
In a nice dish, of terracotta or other, pour one half-centimetre of olive oil.
Once cold, peel the pepper, cut them by hand into thin slices & put them in the oil of the dish.
Cut your cloves of garlic into tiny pieces (do not crush it) & put them everywhere.
Tear manually the desalted cod into small pieces, there too & mix it with everything.
Cover the various ingredients with olive oil, so that none end up in the open air.
And good bread for tasting 🙂
Let rest a whole night in the fridge for a delicious flavour !
Recipe Notes
Variant of the Esgarraet :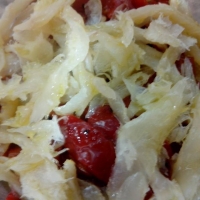 This Tapa doesn't need anything... It is a delight...
But it is not unusual that the cook add some ingredients... It goes very well, for example, with Greek black olives (with no water in it!). But also with :
Hard-boiled eggs...
Thin slices of dried tuna...
Pine nuts...
...
A variant of this Tapa is called : the "Espencat", where red peppers are replaced by eggplants. It is less known because a little less tasty, even though this dish also tastes delicious. We often find a mixture of these two dishes :red peppers and eggplants with cod...

Some regions of Spain have adopted this Valencian Tapa, adding tomatoes, onions, grilled vegetables & changing its name to "Esqueixada" or "Escalivada".
Tricks :
I am insisting : to fully enjoy this starter, here is a trick, which applies to many other recipe,  but especially for this one: prepare the day before ! And let it rest in the fridge... Well marinated, it is a delight !!!
Some links :
In Valencian, the recipe simply explained : here...
But also : there... in Spanish.
A video :
The Esgarraet recipe comes at the 2:50 minute of the following video :