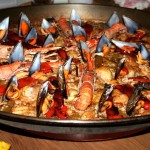 This is the recipe of the most famous paella in France and worldwide: the mixed paella. Often called royal paella : a name invented by marketing people from the French food industry. It is also confused with the paella valenciana which, however, has no seafood product.
The mixed paella was invented by Valencia restaurants when Spain was opening to tourism and had to meet the expectations regarding taste of visitors coming from the North . However, it does not exist traditionaly in Valencia where no family cooks it. As it is known, it is a balance mixture between a paella valenciana and a seafood paella.
Instructions
Prepare well in advance all your ingredients :

Cut into uniform pieces the chicken and the squid & add salt.
Clean the beans and cut them.
Clean the mussels.
Grate the tomatoes manually and throw the skin away.
Think carefully about putting your pan on the stove.
Slowly fry the meat.
Once well roasted, push it to the edges where the heat no longer cook it.
Cook the langoustines and the shrimps, and set them aside from the paella.
Fry the squids or the cuttlefish and push them to the edges with the meat.
Put the vegetable at the center and fry them slightly, then push them to the edges with the rest.
In the center, add the grated tomato and gently fry it.
Add more water than you need.
Reduce it until only remains the right amount of water, between 2,5 and 3 times the volume of rice.
Pour in the rice and the saffron, properly scatter them in the paella.
Let it cook at very high heat for 8 to 10 minutes.
The rice should start to appear.
Then add the langoustines, shrimps and mussels. By pushing them very slightly.
Reduce the heat for the last 8 to 10 minutes.
Finally, always let it rest a few minutes before serving.
If the rice is not cooked enough, you can cover it for at least 5 minutes with aluminium foil, newspapers or a large cloth.
Enjoy your meal !...
Recipe Notes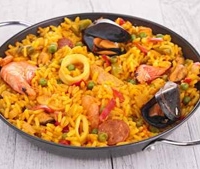 It is not unusual to see two or three kinds of meat. In addition to the chicken, some people add rabbit and/or pork.
Other ingredient sometimes present : clams.
Regarding cold cuts, like Chorizo, as it is very often found in france, you have to read the recipe of the royal paella, invented by the French industry (Findus, Garbit, Carrefour...).
Never talk about royal paella to a Spanish person ! The closest thing to it in Spain is the Andalousian paella.