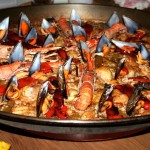 This is the recipe of the most famous paella in France and worldwide: the mixed paella. Often called royal paella : a name invented by marketing people from the French food industry. It is also confused with the paella valenciana which, however, has no seafood product.
The mixed paella was invented by Valencia restaurants when Spain was opening to tourism and had to meet the expectations regarding taste of visitors coming from the North . However, it does not exist traditionaly in Valencia where no family cooks it. As it is known, it is a balance mixture between a paella valenciana and a seafood paella.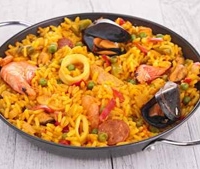 It is not unusual to see two or three kinds of meat. In addition to the chicken, some people add rabbit and/or pork.
Other ingredient sometimes present : clams.
Regarding cold cuts, like Chorizo, as it is very often found in france, you have to read the recipe of the royal paella, invented by the French industry (Findus, Garbit, Carrefour...).
Never talk about royal paella to a Spanish person ! The closest thing to it in Spain is the Andalousian paella.