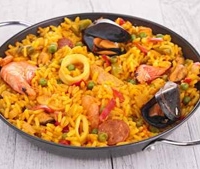 It is not unusual to see two or three kinds of meat. In addition to the chicken, some people add rabbit and/or pork.
Other ingredient sometimes present : clams.
Regarding cold cuts, like Chorizo, as it is very often found in france, you have to read the recipe of the royal paella, invented by the French industry (Findus, Garbit, Carrefour…).
Never talk about royal paella to a Spanish person ! The closest thing to it in Spain is the Andalousian paella.