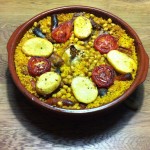 Oven-baked rice, "Arroz al Horno" in Spanish, or "Arròs al forn" in Valencian, is a dish coming from Xativa to Valencia and which is traditionally cooked in a terracotta dish called in Valencian "Rossejadora".
It is a winter dish with cold cuts and pork cuts.
Fry in olive oil and in the terracotta dish, if it can goes over fire, or otherwise in a frying pan, the potatoes coins, and the two tomatoes cut in half. Set them aside.
In the same oil, add the entire clove garlic, and brown the Ventrèche and the Coustellous over low heat.
Then reduce the mashed tomato with everything and add the sweet pepper at the end.
Add the rice and fry everything slightly.
If you have used a pan, reintroduce everything in the terracotta dish.
Add the black puddings and arrange everything harmoniously with the clove garlic in the middle
Variants of the oven-baked rice :
It is also often cooked with meatballs : the Mandonguilles.
The Oranese ("pied-noir") oven-baked rice contains "longanisse" hot or mild.
History or anecdote of the oven-baked rice :
The oven-baked rice is often called "Arròs Passejat" which means: "Walked rice", because the Valencian women did not have oven and had to bring their rice to the baker's oven of their neighbourhood.
We could see then, a ballet of cook with their terracotta dish ready to cook, in the streets of the village.
The history of this dish in Spanish here.
Video of the oven-baked rice :
Links of the oven-baked rice :