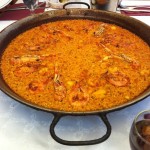 Called in Castillan paella de mariscos or sometimes paella marinera, this fish & seafood paella is probably the most famous after the mixed paella.
The meat of the paella valenciana has been replaced by seafood and the cooking water by fish broth. It is a rice cooked with fishes or seafood, or both.
The history of this dish goes way back,it is most likely that the first rices had been cooked with products from Albufera (eels, fish broth…), the rice fields of Valencia being by the sea…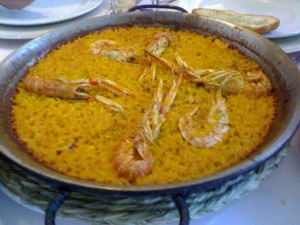 The list I am giving is pretty free.
As you can see on the pictures, some add mussels others do not, and as for shellfishes feel free to use whatever you desire.
Big gambas instead of shrimps...
Slipper lobsters, also called in French "galère" or crabs…
Cuttlefishes instead of squids...
Clams or shellfish...