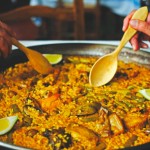 This is the recipe of the original, traditional, authentic paella: the Valencian one, which is cooked with an ingredient list protected by a P.D.O ( a "Denominación de Origen" : a seal of quality for the protection of the local know-how) since the end of 2011.
It is usually cooked with firewood but it is possible to cook it with gas.
The paella has quite a history, thus regardless of how you cook it, follow our 12 tricks and tips and respect the prohibitions.