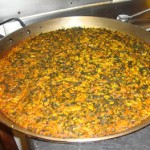 Called in Castilian "Paella de Verduras" or "Arroz en paella verde" but also "Paella Verde" : it is a paella with vegetables, most often (if not always) cooked without meat, or meat broth, a vegetarian paella somehow.
Forget as much as possible frozen vegetables ! Do with seasonal vegetables, even if you have to remove or add some from the list given below.
You want to succeed a tasty paella ? Two imperatives: freshness and quality!
Instructions
Wash, shell & cut the vegetables into regular pieces and add salt.
Over medium heat in the centre of the paella, heat the olive oil.

Place the vegetables in the centre and fry them slightly.
Once grilled, push them towards the edges where the fire no longer cooks them.
In the centre, add the grated tomato and brown it slowly with garlic.
Add the sweet pepper when the tomato is almost fried, and mix everything together : sauce & vegetables.
Add more water than you need.
Reduce it until only remains the right amount of water, between 2,5 and 3 times the volume of rice.

Pour in the rice and the saffron, properly scatter them in the paella.
Let it cook at very high heat for 8 to 10 minutes.
The rice should start to appear.
Reduce the heat for the last 8 to 10 minutes.
Let stand, off the heat a few minutes before serving.

Recipe Notes
History or anecdote of the vegetable paella :
Often called "Arròs de sabater" in Valencian and "Arroz de zapatero" in Spanish, which means "Rice of the shoemaker", this recipe is very typical of Alcoia.
The shoemakers were very poor, and the only thing they could afford to cook their rice was vegetables.
Variant of the vegetable paella :
Other vegetables also used according to families or region :
Mushrooms
Zucchinis
Eggplants
Asparagus
Carrots
...
Pay attention to vegetables which lose water, this change the volume of your broth, in order to succeed the rice cooking...