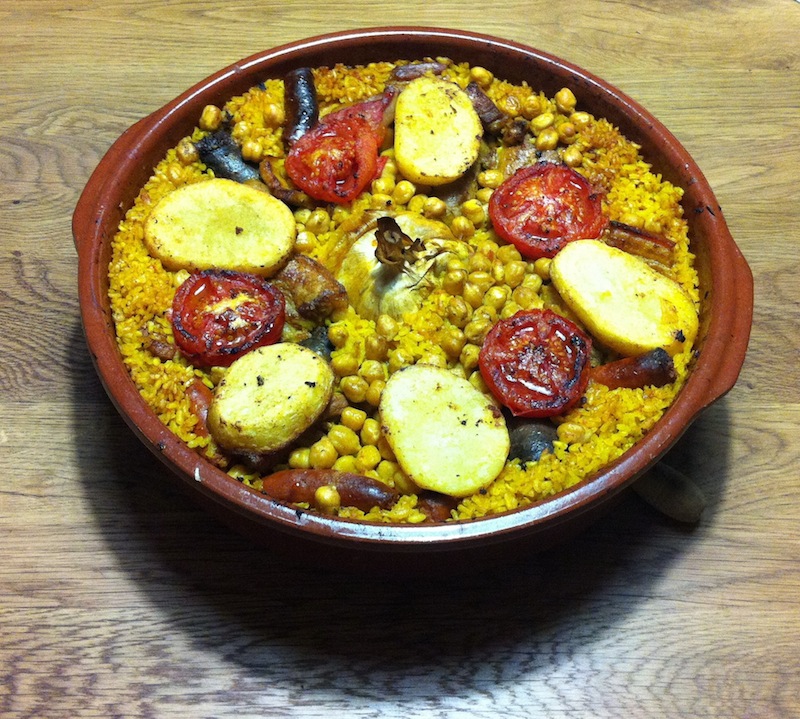 The baked rice, "Arroz al Horno" in Spanish, or "Arròs al forn" in Valencian, are rice originating from Valencia. Like Paella, all of Spain has adopted them.
They cook normally with the remains of the broth of a Valencian pot-au-feu: the Puchero.
It is rather a winter dish & traditionally made with charcuterie and pieces of pork, even if there are some versions of sinners.
These are dry rice that are traditionally cooked in earthen dishes called in Valencian "Rossejadora"
Story or anecdote of the baked rice
The baked rice is often called "Arròs Passejat" ie: "Promised rice", because not having an oven, the Valenciennes women had to take it to the oven of the baker of their district.
In the village, therefore, there was a cook's broom with their earthenware dish ready to cook in the streets of the village.
The story of this dish in Spanish here. And translated approximately by Google here.approximativement par Google ici.
The proportions of the rice in the oven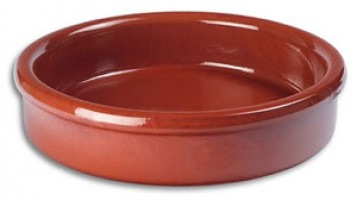 For the dishes: a small table to give you the diameter of the ideal dish compared to the number of people for whom you cook:
25 cm > 2 à 3 people
30 cm > 3 à 4 people
35 cm > 5 à 6 people
40 cm >6 à 8 people
For rice: The proportions per person are: 75 to 100 g round rice A.O.C. of Valencia.
For the proportion of water: it is twice the volume of rice per person, less a volume.
Example:
for 4 people, 4 cups of 100 g of rice, make 8 volumes of cups of water minus 1, so 7 cups of water.
for 5 people, 5 cups of 100 g of rice, make 10 volumes of cups of water minus 1, so 9 cups of water.
for 6 people, 6 cups of 100 g of rice, make 12 volumes of cups of water minus 1, so 11 cups of water.
Be careful to take into account:
the indications of each rice: read the instructions on the package.
your type of water:% limestone.
the appetite of your guests.
Tips for Successful Oven Rice
All of these tips are common to all baked rice:
If you cook this dish on the fire, it is advisable to use a diffuser that breaks the flames.
Start by cooking always at low temperatures for a continuous heat transmission of heat. Avoid sudden changes in temperature. Start with a very low fire, and increase little by little …
The oven must be preheated for at least 10 minutes at 200 °.
The rice must NEVER be washed.
Rice should be introduced into boiling broth.
And if the recipe plans to lightly fry the rice, then the added broth should be boiling.
Once mixed, spread the whole harmoniously and increase the fire to the maximum to restore the boiling of the whole as soon as possible.
Once arranged harmoniously, the rice should no longer be touched, or stirred.
The cooking is never covered with any lid.
Be careful not to burn yourself for baking
Do not let rest. Once cooked, the Rice au Four serve quickly because, unlike the iron paella that chills quickly enough, the earthen dish continues to cook all and your rice could then be overcooked.
For the first use of your dish:
put your dish under warm water for 3 hours
just after putting it on the fire filled with water with a spoonful of flour until you boil the whole thing a little
Some Rice Recipes in the oven
Here is a non-exhaustive list of the most typical and authentic baked rice recipes in the Valencia region:
Riz doré "Arroz dorado" "Arròs rossejat"
Rice in the oven of Xàtiva "Arroz al horno de Xàtiva" "Arròs al forn de Xàtiva"
Rice in the oven of Torrent "Arroz al horno de Torrent" "Rossejat de Torrent"
Rice in the oven of Valencia "Arroz al horno de Valencia" "Arròs dels Miquelets"
Rice in the oven of Alcoy "Arroz con pata de Alcoydf" "Arròs amb pota d'Alcoi"
Rice in the oven of Pamplonaise "Arroz a la pamplonesa"
Rice in the oven of Majorquine "Arroz al horno a la mallorquina"
Rice in the oven of pauvre (ou du veuf) "Arroz pobre (o viudo) al horno"
Rice in the oven of carème "Arroz al horno de Cuaresma"
Rice in the oven of Maure "Arroz al horno de moro" "Arròs de moro al forn"
Rice in the oven of albondiguillas "Arroz al horno con albondiguillas" "Arròs al forn amb pilotes"
Riz au four à l'oignon "Arroz con cebolla"
Rice in the oven of chorizo "Arroz al horno con chorizo"
Rice in the oven of canard "Arroz al horno con pato" "Arròs al forn amb anec"
Riz au four aux raisins secs et aux pois chiches "Arroz al horno con pasas y garbanzos "
Riz au four de fèves et poulet "Arroz al horno con habas y pollo"
Riz au four à la morue "Arroz al horno de bacalao, garbanzos y patatas"
Riz au four à la citrouille "Arroz al horno con calabaza"
Riz au four au thon noir "Arroz al horno con atùn negro"
Riz au four d'anguilles et haricots verts "Arroz al horno con anguilas y judias verdes"
Riz au four de choux fleur et morue "Arroz de coliflor y bacalao al horno"
Riz au four de navets et haricots "Arroz al horno con habichuelas y nabos"
Riz en croute "Arroz con costra"
Riz en croute de Orihuela (Alicante) "Arroz con costra de Orihuela"
Riz en croute de la Vega Baja del Segura "Arroz con costra de la Vega Baja del Segura"
Riz en croute d'Elche "Arroz con costra al estilo de Elche"
Riz en croute au poisson "Arroz de pescado con costra"
…
All these recipes, and many more, will be online soon …