Recipe of Rice Caldoso with Beans and Turnips
History or anecdote: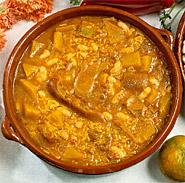 Called Valencia "Arròs amb Fesols i Naps", it is the recipe of the caldoso rice most typical of Valencian rice. It is a typical dish of the Huerta de Valencia, also called "Arròs Junt" or "Caldera".
Some recipes say "Meloso": with less aroma, broth.
The recipe is identical to "Arroz Caldoso con Garbanzos", rice "Caldoso" with chickpeas. But here, instead of chickpeas, we put white beans, and pork shells are replaced by ears, feet, muzzle & pork loin. Finally, we remove the artichokes.
Ingredients for 6 people:
4 pudding with Valencia onion (Morcillas de ceba)
100 g of fresh ventrèche
300 g ears, feet, muzzle & pork loin
200 g of dry beans, which you let soak 12 hours before
200 g turnips, about 3 pieces
4 garlic, salt, saffron or food coloring
250 g to 300 g of AOC de Valencia rice
6 cl. olive oil
2.5 l of water
Recipe of Rice Caldoso with Beans and Turnips:
The day before: put the white beans to soak in cold water.

In a terracotta pot "Puchero" add all the cold water.
Arrange your pieces of pork: ears, feet, snout & loin with Beans & Ventrèche.
Cook on low heat for about 20 minutes
Meanwhile in a skillet sauté in olive oil: whole garlic and turnips.
Pour the whole in the "Puchero" & cook on low heat for about 1 hour.
Remove the pork to cut it into pieces.
Re-introduce it immediately with onion pudding.
Stir in the saffron and add salt if necessary.
There should be about one liter of water at this time of cooking: add the rice.
Cook for 15 to 18 minutes. Test the holding of the rice, to finish cooking.
Serve and let stand a few minutes on the plates.
Variant :
I found recipes with:
an Onion: which is made with Garlic and Turnips.
100 g of Bacon instead of the Ventrèche.
Pork knuckle: in addition to all other pieces.
3 or 5 Longanisses: in addition to the Boudins.
1 or 2 Blanquet: Valencian typical white pudding (nothing to do with the white pudding that we know in France)
Pimentòn: to add at the end of the cooking of the Garlic fillet and turnips.
Black pepper
Video :
More information coming soon …
Links :
More information coming soon …