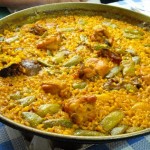 Paella dry rice is cooked in a paella.
But be careful not to confuse them with "LA Paella" in front of a Valencian.
Here are some of the most famous: Mixed, Alicantine, fish, arroz a banda, arroz negro and many others …
The legend of rice in paella
A legend is told about the creation of the numerous variants of Paella Valenciana. This story takes place during the Spanish War of Independence between Spain and France.
The proportions common to all rice in paella
For rice: per person from 100 g to 150 g round rice A.O.C. of Valencia
For broth: a little less than triple the volume.
Be careful to take into account:
the indications of your rice: read the instructions on the package.
your type of water:% limestone.
water released by your ingredients that can change the proportions.
the appetite of your guests.
More information on the appropriate page.
10 tips for making a successful Paella rice
All of these tips are common to all paella rice:
The rice must NEVER be washed.
The rice should be introduced into a boiling broth, or if the recipe plans to lightly fry it, the added broth should be boiling too.
Cook your sauce bottom over reduced heat.
Once mixed, divide the whole harmoniously.
Rice should not be touched or stirred.
The cooking is never covered with any lid.
If you are short of broth at the end of cooking, do not add water, but rather cover your paella with a large damp cloth for 5 minutes. The rice will absorb the moisture to finish cooking.
Once cooked, always leave your rice paella for 5 minutes.
Some rice recipes in paella
Here is a non-exhaustive list of the most typical and authentic paella rice recipes in the Valencia region:
Rice in winter paella "Arroz de invierno"
Rice in onion and squash paella "Arroz con cebolla y calabaza"
Rice in spinach paella, anchovies and tender garlic "Arroz con espinacas, boquerón y ajos tiernos"
Rice in paella with meatballs "Arroz con pelotas" o "con mandonguiles"
Rice in paella with pork chops and peppers "Arroz con costillas de cerdo y pimientos"
All these recipes, and many more, will be online soon …